Award of the Foundation for the Development of the Education System for MTG
26.10.2023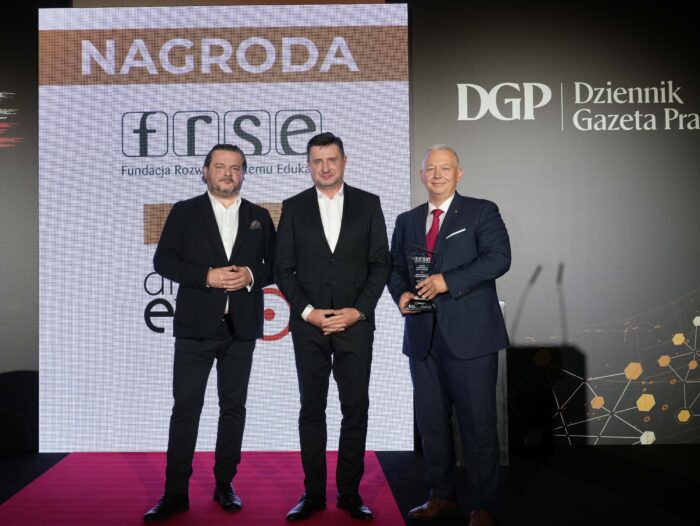 The final gala of the 11th edition of the "There is no future without entrepreneurship" campaign, organized by Dziennik Gazeta Prawna, is behind us. We are proud to announce that we have received the prestigious award of the Foundation for the Development of the Education System, which representatives of the Gdańsk International Fair, President Andrzej Bojanowski and Vice-President Paweł Orłowski, received during the finale of the campaign in Warsaw.
This is a great distinction for our company and confirmation of our commitment to developing vocational education in Poland. The award is proof of recognition for supporting the development of professional education. We would like to thank the Foundation for the Development of the Education System for noticing our activities. This is an extremely inspiring and motivating distinction that gives us strength to continue working. Thank you to everyone who has been part of this journey – together we can achieve great things!
The award was granted for one of the flagship titles of AmberExpo in 2023, i.e. EuroSkills, which was hosted at the MTG premises at ul. on September 5-9. Żaglowa 11 in Gdańsk over an area of approximately 53,000 m2. m2. Nearly 600 competitors from 32 countries took part in the competition. There were competitions for the European Champion titles in 43 disciplines, including: furniture, floristry, baking and car mechanics.
Discussion panels were also held during the gala. 2 on 1 conversation on the topic There is no future without artificial intelligence in entrepreneurship, Paweł Orłowski, Vice-President of MTG, presented his view. The second interlocutor was Dr. hab. Paweł Poszytek, general director of the Foundation for the Development of the Education System, and the moderator was Krzysztof Berenda, director of the Warsaw editorial office of RMF FM.