AmberExpo with the Run for New Life
22.10.2023
A special edition of the "Run for New Life – Pomerania for YES" took place on October 20 in the Old Town in Gdańsk. The event was attended by, among others, doctors, transplant coordinators, and those who are most important in the event – transplant recipients. also sports personalities. One of the sponsors of this noble initiative was AmberExpo.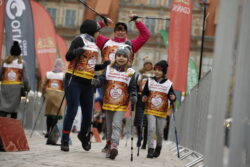 The story of every person after transplantation is a story about overcoming difficulties, fortitude and hope. Jacek Konat from Bodzentyn was only 21 years old when he suffered a serious stroke and it turned out that he had myocarditis. Years passed and it functioned just fine. Rehabilitation worked wonders, although after the stroke he was left with paresis, especially in his hand, he regained independence and finished his studies. The condition of his heart condition was getting worse every year. Jacek was taken to the Silesian Center for Heart Diseases in Zabrze in a very bad condition. To wait for the transplant, he was qualified for implantation of a Heartware pump supporting circulation. He lived with her for 3.5 years. He lived to see the moment when he received a second heart. On October 20, Jacek took part in a special edition of the "Run for New Life – Pomerania for YES".
Joanna Jurkiewicz, who received a new kidney and a new life at the local University Clinical Center, marched with Nordic walking poles for the first time. Joanna often suffered from angina as a child and was sick every few months. Repeated inflammation led to chronic glomerulonephritis. Joanna also had nephrotic syndrome. Thanks to the donor, she got a second chance – she finished her studies, gave birth to children, works and makes her dreams come true.
Marcelina also appeared during the run. She underwent a liver transplant almost 6 years ago, at the age of 10 months.
– We thought our daughter was healthy. We found out it wasn't when we went for the standard vaccination. The doctor noticed that Marcelinka had yellow eyes and sent her for tests. It turned out that she had extrahepatic bile duct atresia – says Mrs. Paulina, the girl's mother.
Marcelina feels good, goes to first grade, goes on camping holidays and goes crazy on her bike. He celebrates his birthday twice a year, the latter on the anniversary of a successful transplant. Marcelina's dad gave a piece of his liver.
– He didn't hesitate for a moment – says Mrs. Paulina. – Let's talk about transplantology, let's not let it be a taboo – he adds.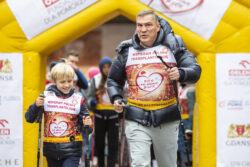 The Run for New Life is here to talk about it. The ambassador is Przemysław Saleta, who donated a kidney to his daughter Nicole many years ago. His duties did not allow him to take part in the event, but other famous people appeared on the Nordic walking route, including: Dariusz Michalczewski, Adam Korol, Mariusz Wlazły, Piotr Myszka, Artur Siódmiak, Roman Paszke, Damian Wleklak.
There were also medical authorities among the 275 participants. The occasion was special, the Run for New Life accompanied the 16th Congress of the Polish Transplantation Society.
Prof. Maciej Kosieradzki, president of the Polish Transplant Society, says that 2023 was much better for Polish transplantology than previous years, when we struggled with the COVID-19 pandemic.
– This year, at least in our country, in Masovia, the number of transplants will increase by 30 percent. – says the professor.
Prof. speaks in a similar tone. Roman Danielewicz from the Department of General and Transplant Surgery, UCK WUM in Warsaw. He says that the final summaries of 2023 will come in two months, but it seems that achieving the result of 2,000 is realistic. transplants.
– This is, of course, a very optimistic assumption, but it is certainly a good year, we are returning to our pre-COVID-19 activity – emphasizes the specialist.
Prof. Sławomir Nazarewski from the Department of General, Vascular, Endocrine and Transplantation Surgery, UCK WUM in Warsaw adds:
– We are on an upward trend, this year was very positive when it comes to transplantology. I think this wave will carry us even further next year, the professor hopes.
What do Polish transplantologists wish for in 2024?
– I would simply like there to be more transplants in 2024, to increase the number of saved patients and improve the quality of life – says Dr. Hab. Jacek Wojarski, coordinator of the lung transplantation program at the University Clinical Center in Gdańsk.
The route of the Gdańsk edition of the Run for New Life was marked on Długi Targ and Długa Street – from the Green Gate to the Golden Gate and back, and was approximately one kilometer long. The friends of the Run, the "Łzy" band, sang for the participants. It usually happens that the weather is good during the event. It was no different in Gdańsk, despite rain, cold and wind, we were in a "weather window" lasting several hours.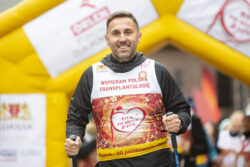 – The Run for New Life is, above all, fantastic fun, showing support for an important idea, the opportunity to run with people after transplantation – this is especially important to me. I am very happy that we can finally meet in Gdańsk and spread this idea in our beloved city – says Piotr Borawski, deputy mayor of Gdańsk.
This time, the participants of the Run marched individually, unlike the "classic" Run for New Life, the composition of the relay teams was drawn from the results after the end of the event – the best time was achieved by the team of: Dorota Miszewska-Szyszkowska, Wojciech Wołyniec and Alicja Sadowska. Individual awards were given to the fastest people after transplantation – Justyna Graczyk and Krzysztof Wielendt.