Urban Mobility Flow Summit
22.11.2023 - 22.11.2023
Inaugural Urban Mobility Flow Summit to be held in Gdansk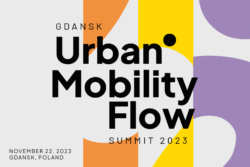 The first-ever Urban Mobility Flow Summit is set to take place on November 22, 2023, at AmberExpo in Gdansk, Poland. Urban Mobility Flow serves as a unique platform that bridges the gap between the private and public sectors in the realm of urban mobility. The summit aims to catalyze real changes in how we move within our cities.
Why This Summit Matters?
As cities grapple with the challenges of rapidly progressing urbanization, the need for innovative, scalable, and sustainable solutions in urban mobility has never been greater. Urban Mobility Flow aims to foster collaboration in search of innovative solutions directed towards a more sustainable and efficient future for various forms of urban transportation.
Key topics of Gdansk Urban Mobility Flow Summit 2023:
• Financing of green mobility for public and private sectors: An analysis of financial models that support the implementation of green technologies in urban mobility.
• Shared mobility and mobility hubs: The role of shared mobility in reducing traffic congestion and improving transportation efficiency in cities.
• Smart urban mobility solutions: A review of the latest technological advancements shaping the future of urban mobility.
• Zero emission urban logistics: Strategies and technologies that assist cities in implementing low-emission logistical solutions, particularly in dense urban centers.
Why attend and what to expect:
• Thematic panels: Four discussion panels combined with expert lectures.
• Networking opportunities: The chance to meet industry professionals during a special evening networking event.
• Innovative technologies: Cutting-edge solutions aimed at redefining urban mobility.
Be a part of the Gdansk Urban Mobility Flow Summit 2023 – let's move forward, together!
For more information, please visit www.urbanmobilityflow.pl or contact us directly at info@urbanmobilityflow.pl